The Earl of Hurl presents....
Mold Cam I - Night of the Living Strawberries
Someone in MTI Bldg. 10 upper left a couple of strawberries in the fridge. There was no date stamp on the package, but I estimate from its looks that they were purchased around the beginning of August 1996.
I discovered some interesting growth on it Sept. 8 1996.
On Sept. 17 1996, I decided to remove the strawberries from the fridge to a more controlled environment (my office). I focused the IndyCam on it and will take a snapshot once a day using a cron job. You can view the growth on this web page.
The experment was terminated on Oct 23 1996. Reason: mold is dead now from lack of nourishment. Lets have a moment of silence in remembrance. You may want to view images around the Sept 30 dates to see our friend in its heyday.
Check back again soon, we are designing a new experiment in mold growth. Our current plans are to to snap an image every 15 minutes and auto-generate a time-lapse video clip. If you have any comments, please e-mail me at lardmaster@lard.net. Please note: there are still some buttons left, see the bottom of this page to get yours.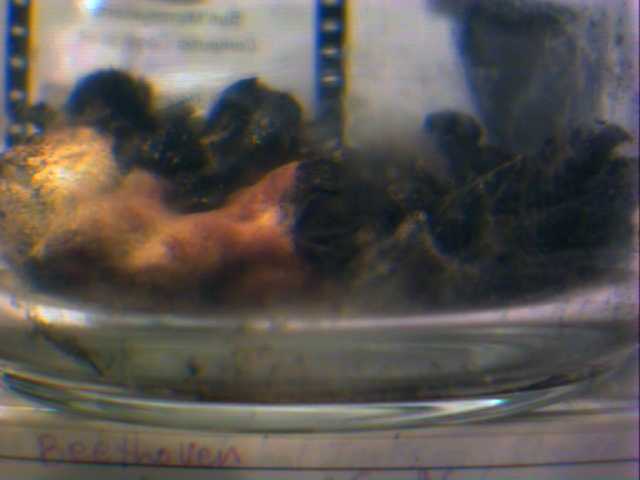 Picture taken Tue Oct 22 14:10:17 PDT 1996
---
Historical Snaps

Oct 22


Oct 21


Oct 18


Oct 17


Oct 16


Oct 15


Oct 14


Oct 11


Oct 10


Oct 9


Oct 8


Oct 7


Oct 4


Oct 3


Oct 2


Oct 1


Sep 30


Sep 27


Sep 26


Sep 25


Sep 24


Sep 23


Sep 20


Sep 19


Sep 18


Sep 17

---
More
If you choked on this, you will really vomit on these:


Mold Cam II - The Incredible Shrinking Muffin (video available!)


Mold Cam III - Still? Life. Designed by Vegetarians for Vegetarians (video available!)
---
Inspired by SPAM cam.

Back to the LARD page