Mold Cam III - Still? Life
Is it art, or an excuse to waste network bandwidth?
After the resounding success of Mold Cam II we have decided to expose our viewers to a little art. On Nov. 14, 1996, we found a bag of mixed vegtables, with expiration date Nov. 7, 1996, in (or all places) the garbage can at MTI. Some crast individual has decided to discard what could be a masterpiece. Luckily the Earl of Hurl caught wind of this and rescued the sad looking bag of rot.
Our carrots, broccoli, and a large piece of cauliflour are beautifully arranged in front of the IndyCam. It will take a snapshot once every hour and assemble a video daily. We are going to attempt to answer the question: Is still life really still?. Watch the videos and find out. Check back often for the latest and greatest time-lapse videos.
You may need to hit the Reload button to get the latest images and videos.
| | |
| --- | --- |
| Picture taken Nov 14 16:19 | Picture taken Nov 25 10:10 |
---
Videos
For your viewing pleasure the following are the latest videos based on all the images taken since Nov. 14 1996.

Quicktime format ( 2634 Kbytes )


SGI Movie format ( 5758 Kbytes )
Notes: due to circumstances beyond our control (janitor turned off light over the Nov 16-17 weekend), a section of this video appears darker. We used some image enhancing technology to brighten that portion of the video. We have taken measures to ensure it doesn't happen again (put tape over lightswitch).
---

Check here for Mold Cam II - The Incredible Shrinking Muffin.

Check here for Mold Cam I - Night of the Living Strawberries.
Inspired by SPAM cam.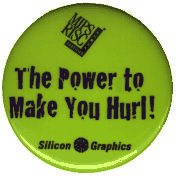 MIPS - The power to make you HURL


Sign My Guestbook
View My Guestbook


You are the
'th art critic to visit this page since Nov 14 1996.

Back to the LARD page